Hey everyone,
Just stumbled on this script and thought it would be awesome. Install went fine, but now I am having some post installation woes.
I am using Debian
My entire file system is on root as I deleted the home partition
My server is 2tb
Now for the issues. The disk status widget looks like this: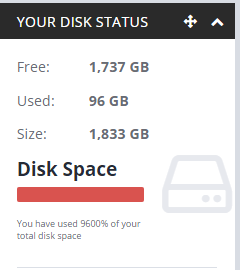 Im not sure what to do about it. Im currently setting up plex and my other desired packages, but the widget is really bugging me. Thanks in advance for your help!
Also why is the installation 96GB in size? I have no torrents or anything downloaded at the time of taking that screen shot.