Originally published at: https://quickbox.io/changelogs/quickbox-pro-v2-0-0/


This version has been released on Wednesday, June 26, 2019.
This version is considered a Major Release. We've coupled in a few New additions with this release along with some fixes for application builds under certain environments, as well as various applications now requiring updated dependencies, most notably python3. We're also happy to report that you'll now have the joys of Deluge 2! This is optional and a part of the qb update deluge 1 upgrade where the qb update deluge 1 and qb update deluge 2 will update pre-existing versions installed and the upgrade will boost you to the new v2 release. Please note however that Deluge v2 is not compatible with Ubuntu 16.04 as well as qBittorrent. So if you are planning on running qBittorrent or Ubuntu 16.04, you'll have to stick with Deluge v1 for now.
Along with the new Deluge v2 release, we've thrown in the Ubiquiti UniFi Controller as an app! This can be installed with the values described in this article. Where true is remote enabled and false is local.
You'll now also find a new button within the system status panels for apps installed.

This allows the system administrator(s) to live edit the associated applications nginx reverse config.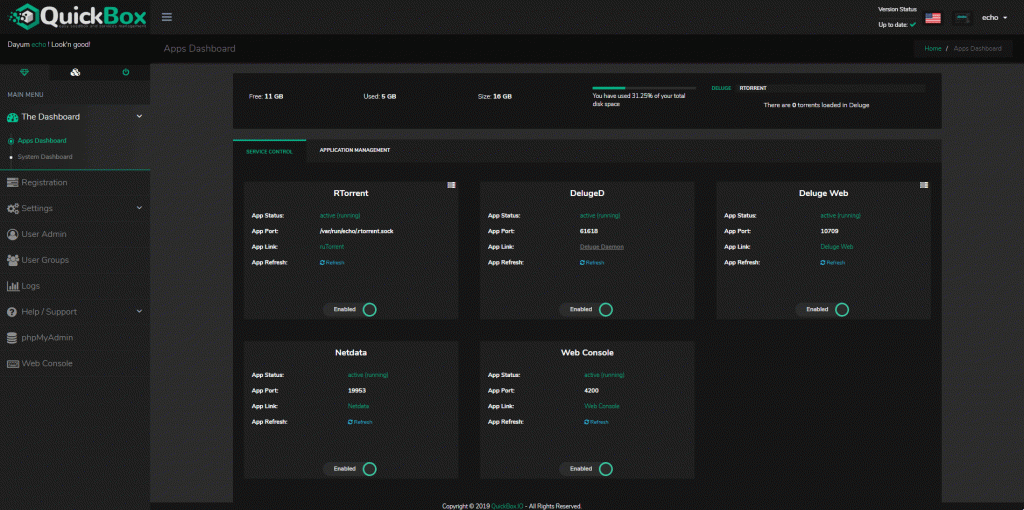 There is a lot more we plan on expanding within this feature and this is the initial release, so as per the usual, check out the changelogs below and stay tuned!
We have pushed the release date to Wednesday, June 26th as we are still running tests on the new Deluge v2 as well as upgrade paths from Deluge v1 to v2. Additional to this, we are working on including some amazing enhancements to the dashboard and decided to aim for a solid 2.0.0 release! Stay tuned!
New:
Deluge v2
Filebot username to autocomplete
rutorrent-discord plugin for ruTorrent
Edit App Nginx Configs from dashboard status panels
UniFi controller
Version reporting to installs
Enhancements:
Better options on filebot build (set paths for setup - process downloads)
Better version reporting to installs
Use GB as byte format on b/w hourly,daily,monthly charts
Set database values for domain on Let's Encrypt install
Updated (n) values for disk measurements
Fixes:
Password voids on htpasswd file
Netdata installer
Ensure proper lock on webconsole during initial install
Docker version password import on initial install
Calibre build on Debian 9
Calibre updater
Better builds on applications requiring python2/3
RTorrent output silenced on CLI install
Restart Calibre service on the build
qb update Checks for qb_check.json
Locale Gen on Debian
Filebrowser assets updated for missing logo
Addressed proper edit log to display on quota build
Radarr to restart as user from GUI
Ensure Radarr build produces unique user templates for sysd
Edit