Recently I had a friend come over and he brought a computer that we rebuilt to be a seedbox using the QuickBox install script. Everything went fine, install was easy as expected, no issues. Then he returned home, where he has a different internal IP network than I do. Which is causing a few little issues using links inside the dashboard.
Example: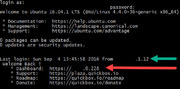 I just don't know if there is a quick way to reset all the hardcoded old IP addresses to the new one on the network the box is currently on, or if there is a list of what files are needed to be edited to fix this 'oops'?
On that note I did fix the 'Web Console' link, by going through and editing the http://SERVERIP:4224 address from the .0.228 to .1.12 inside:
/etc/apache2/sites-enabled/[USERNAME].console.conf
The box itself works without issue, using PuTTY we can connect remotely into the box, going to the Deluge WebUI (which we use and aren't bothering with rtorrent) link directly, connects and are able to interact with torrents. Torrents themselves download and work without issue. So this isn't a huge issue, but more of a "well there is not something right, how do I fix it" type of question. From looking around the Plaza, that's all I could figure out to change so far. But lesson learned, set static IP and make sure it never changes for any future installs!