Please check the latest posts for server updates!
Hello to all,
We have been working on converting QuickBox into a KVM installable image so users can spin up a machine for testing and quickly restart if needed.
Currently the project is in beta mode but upon testing everything seems to be working as intended.
Our servers are hosted on the OVH network with 1GB lines and NVMe SSD drives which means we can get some amazing disk transfer speeds of up to 145,000 IOPS and 1.2 Gbps read speed.

We would like to invite a select few who wouuld be interested in testing the platform. We will be updating other services at the same time and although most installs work some still need work on but if you stick to Quickbox installs you should be fine.
The build is based on Ubuntu 16.04 LTS and the new Smoked theme
If you would like to help test the platform, as well as help test QuickBox itself please send an email to [email protected] and we will reply with an invite and credit your account so you dont have to pay for machines.
Our interface and list of installs looks like this.
ONLY ALLOWED TO POST 3 IMAGES IN THIS THREAD
You can start stop restart ect your server

Also you can control your account via API
ONLY ALLOWED TO POST 3 IMAGES IN THIS THREAD
We currently have servers in France & Canada both include NVMe SSD
Setup Detail
Send an email to admin[at]cloudbitvps.io and we can send you an invite or
Signup using this link and you will be redirected to the QuickBox image directly.
https://app.cloudbitvps.io/machines/new?image_id=10030
After sending an email we will credit your account with enough funds for 2 months of service on the Developer plan. You can deploy, destroy and redeploy QuickBox as many times as you wish.
If you register using the link, simply submit a support ticket and mention you came from QuickBox and we will credit your account.
The main default non-root superuser is
Login: seedbox
Pass: seedbox
Please change your passwords upon startup.
A root password will be generated each time you deploy a machine. ex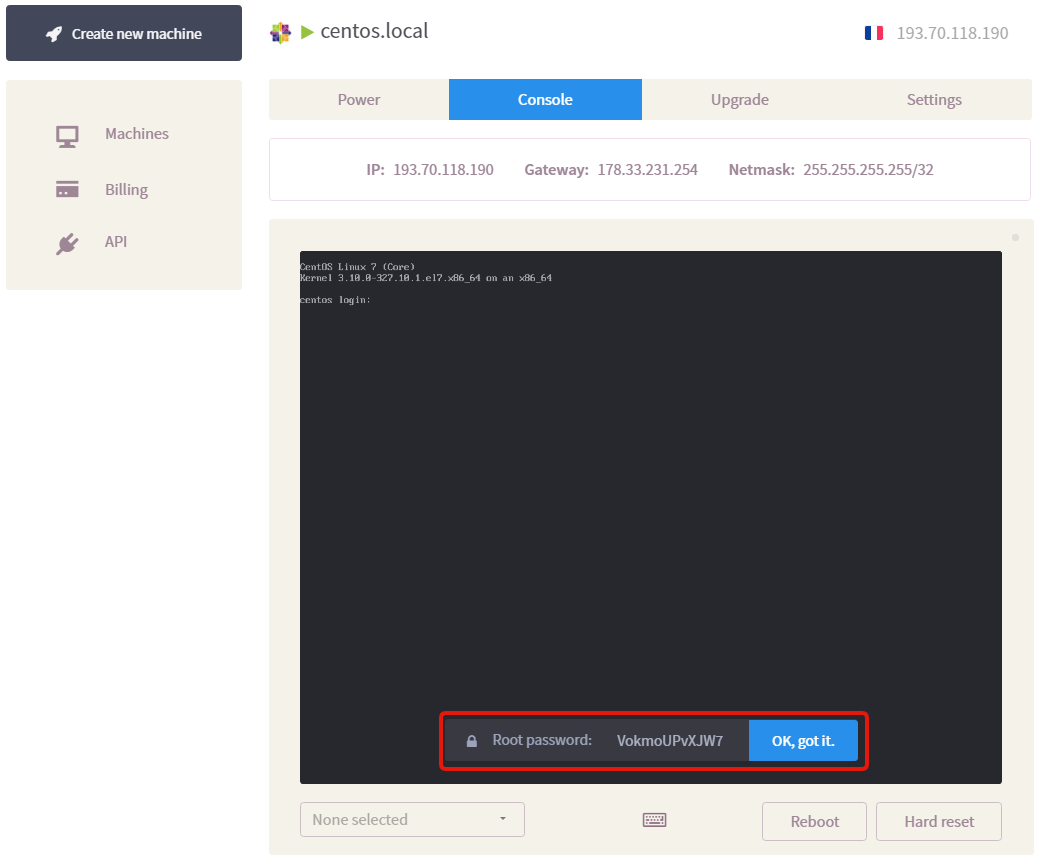 If you lose your root password or forget it you can generate a new one without spinning up a new machine in the control panel.
ONLY ALLOWED TO POST 3 IMAGES IN THIS THREAD
Each account comes with:
x4 intel vCore (E3-1245 v5 @ 3.50GHz) (upgraded from 2 to 4)
2GB RAM
25GB NVMe SSD - Remember this is for testing purposes only, use a cloud service if you want to configure more space.
Just to reiterate, this is not yet a commercial project, we are giving away the services for free to select users who wish to be able to spin up a QuickBox machine for testing purposes. There may be problems along the way and bug reporting is essential, either via this thread or by contacting us using the support ticket system on our site.
We welcome your comments and criticism but please keep it constructive and QuickBox related ONLY.
We are doing this first and fore-mostly because we love QuickBox and the features it offers but it can be tricky for people to get a server running just to even test in some cases. We welcome noobs and experts alike. The more the merrier.
THIS IS AN EXCLUSIVE OFFER TO QUICKBOX FORUM USERS ONLY. PLEASE DO NOT REPOST